"Our DJ always checked in with me to make everything exactly as I wanted. I am very thankful that she did the music dedications - we will never forget them! The DJ kept it fun and kept it pumping. I have gotten so many comments from people that she was the best DJ they have seen in a long time - we loved the additions of games and skits. She made our night so memorable - she went above and beyond my expectations. Thank you so very, very much from the bottom of our hearts!"

Melissa and Eric

Bride and Groom

"The DJ came early to set up and was very polite. I didn't get a chance to explain what type of music he should play because I was busy with other things - but he seemed to figure it out! The requested songs were played and it seemed that everyone enjoyed the music. I was pleased both times that I have used them. The price is right, the music is awesome and the people are friendly and fun!"

Miranda

Event Coordinator

"Everyone at the wedding had a great time! Thanks so much!"

Carla and Ron

Bride and Groom

"Great job - thanks for everything! It was perfect!"

Jenny and Derrick

Bride and Groom

"The entertainer was awesome - couldn't have asked for more! The music played was just perfect for us. I was so impressed, not only by the music, but how good our entertainer was - he really did a great job and was fun!"

Holli and Ben

Bride and Groom

"We received a lot of great comments from our guests about the music. They loved the mix and the songs chosen. Our DJ was a fun guy and we enjoyed having him. Music In Motion was great to work with as we planned our wedding also. Thanks for helping make our day so special!"

Shalena and Aaron

Bride and Groom
Why choose us?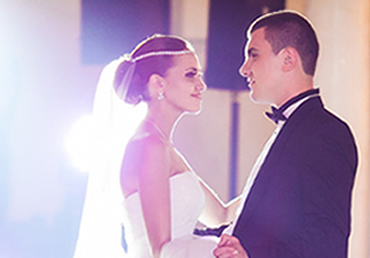 Amber & Dan
"Our DJ did a fantastic job! It went perfect - it stayed a very good party all night - perfect music and just a great time! A special thanks too, to Music In Motion for setting up everything prior to the event. Thanks for the great party - everybody said it was awesome!"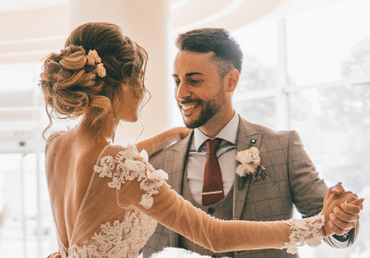 Kate & Eric
"Our DJ was great! The wedding dance was awesome and everyone had a great time. All the music was what we wanted and it sounded great!"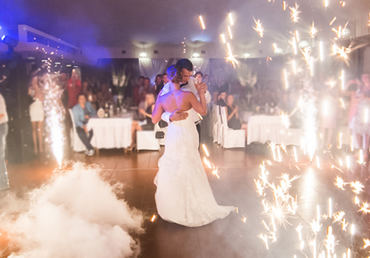 Roxanne & J.P.
"Wow, what an absolute wonderful DJ. She played an excellent arrangement of music. The dance floor was busy all night. We had a lot of kids at our wedding dance and the DJ handled them very well. Our guests the next day commented on how well the DJ balanced the night with kids stuff and adult music. She had a lot to do - all the glow sticks and props, plus our special dances. We were very impressed."